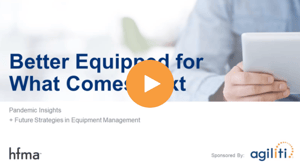 The COVID-19 pandemic shocked the U.S. and quickly exposed long-existing gaps in our nationwide procurement and supply chain processes.
While clinicians and hospital operations staff responded quickly to access equipment and supplies at the outset of the pandemic, it became clear that some new processes and procedures were needed to ensure vital equipment remained available for caregivers during the ongoing surges of COVID-19.
We recently sat down with a group of experienced healthcare executives to discuss their insights into the pandemic – including what worked, and what didn't – in a webinar entitled Better Equipped for What Comes Next. You can watch the replay of the webinar to hear experts discuss:
Financial and operational takeaways from the early stages of COVID-19

Managing the ongoing surges in COVID-19 and what changes are planned for medical equipment access and management

Future-focused strategies for large-scale emergency preparedness

Complete the form to watch the replay.
Share