Are Your Devices Giving You Early Warning Signs of Damage?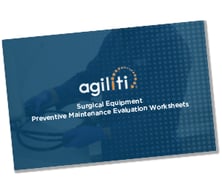 Just like the service light on your car, your surgical equipment can indicate early warning signs when in need of service. Identifying those warning signs of potential imminent device failure is vital to minimizing patient risk – and may ultimately help save you from hefty replacement costs.
Whether you are a sterile processing pro with 15+ years of experience or are new to the field, download the Preventive Maintenance Evaluation Worksheets to effectively evaluate your equipment and prevent further damage to:
Flexible Endoscopes

Rigid Endoscopes

Powered Equipment

Video Equipment
Incorporate the evaluations sheets into your practice today and reduce damage and service costs. Complete the form to download the free Preventive Maintenance Evaluation Worksheets today.
Share this offer