First Impressions Matter. Make Yours Count.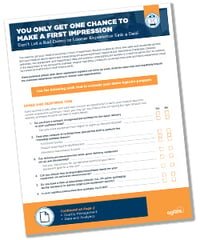 A well-run demo or loaner device experience is critical to building and maintaining your customer base. Not having the equipment in the right place at the right time, malfunctions, and missing parts can sabotage a sales opportunity and limit your growth.
Download the Demo/Loaner Program Audit Tool to kick-start an evaluation of your current processes and identify gaps preventing your program from being a competitive advantage that drives sales.
The tool focuses on three critical area that can impact your medical equipment demo or loaner logistics program:
Speed and response time

Quality and equipment management

Data and analytics
Share this offer