Rising Regulatory Standards for Laser Safety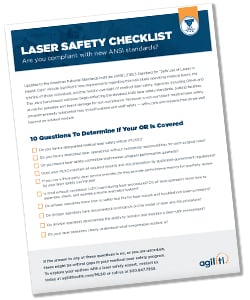 Interesting fact: 70% of hospital laser programs we assess do not meet new ANSI laser operator certification standards. Why? Because the latest standards include significant new requirements regarding individuals operating medical lasers, their training and the holistic oversight of their facility's laser safety program.
OSHA and The Joint Commission are enforcing elevated standards – make sure your OR is prepared. Perform a quick audit of your laser safety program with this 10-point laser safety checklist.
Complete the form to receive the checklist.
Share this offer!