Is Your Rental Equipment Held to the Highest Standards?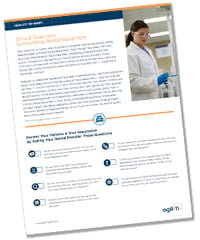 Do all third-party rental providers follow the same standards to ensure patient safety? Unfortunately, no. In fact, medical equipment rental and service providers are not regulated by the FDA and are not required by law to adhere to OEM quality standards.
What does this mean for you? Critical life-saving medical devices may not be maintained to the standards you expect, putting your patients at risk.
So, how can you ensure your organization is properly evaluating your third-party rental providers? Download the tip sheet for 7 questions that you can use to quickly vet your third-party providers.
Complete the form to receive the tip sheet.
Share this offer!