Last Updated: April 24, 2020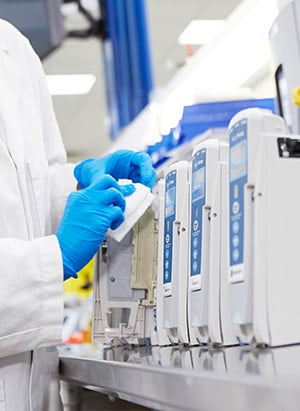 At Agiliti, we believe every interaction has the power to change a life. That philosophy is the cornerstone of our approach to serving customers across the U.S. — ensuring providers have the patient-ready equipment they need, when and where needed, with the assurance that each device is cleaned, tested and maintained to the highest quality standard in the industry.
As COVID-19 continues to spread across the U.S., Agiliti is focused on helping to ensure healthcare providers are prepared to meet the medical equipment challenges posed by the pandemic. To date, we have:
Fully deployed our fleet of more than 250,000 medical devices and related accessories across the U.S. healthcare system and partnered with medical device brokers and manufacturers to deliver additional equipment where it's needed.

Assigned our biomedical repair technicians to hospitals across the country to ensure provider-owned equipment is safely and rapidly tested, repaired and made ready for patient use.

Redeployed equipment service technicians from our 92 local service centers to support the stand up of surge medical capacity in parks, gymnasiums and hotel rooms across the country.

Engaged and empowered our more than 1,300 onsite program teammates who every day work side-by-side with clinicians to manage intrafacility and system-wide transport, delivery, reprocessing, repair and maintenance of medical devices.
Quick Links:
---
Helpful COVID-19 Resources:
Additional Resources
---
Frequently Asked Questions (FAQs)
The following FAQs further detail our preparedness and response plans related to COVID-19. If you have questions or need additional assistance, please contact your local Agiliti Sales representative.
Is Agiliti experiencing operational interruptions due to COVID-19?
How is Agiliti supporting increased demand for medical equipment due to COVID-19?
Will Agiliti have enough rental equipment available to meet the current and future needs of customers?
If you cannot provide the equipment I request, what other ways can you help?
How do you ensure your equipment is clean, sanitized and patient-ready before delivering to our facility?
How are you ensuring your staff (delivery drivers, onsite technicians, biomed technicians, surgical technicians) are taking precautions against the spread of COVID-19?
Does Agiliti have a disaster preparedness/pandemic readiness program?
What steps do you have in place to limit service disruptions for customers where an Agiliti employee works onsite at our facility?
Are Agiliti team members considered "essential employees"?
---
FAQs Related to the Agiliti Recruiting Process and COVID-19
Is Agiliti still hiring?
How are interviews being conducted?
If I receive an offer from Agiliti, will I be required to complete my pre-employment drug screen?
If you have any additional questions about our preparedness and response plans related to COVID-19, please contact your local Agiliti Sales representative or email us at info@agilitihealth.com.