Last Updated: March 25, 2020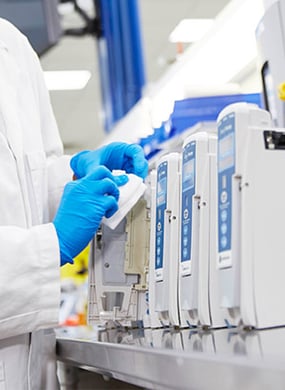 At Agiliti, we believe every interaction has the power to change a life. That philosophy is the cornerstone of our approach to serving customers across the U.S. — ensuring providers have the patient-ready equipment they need, when and where needed, with the assurance that each device is cleaned, tested and maintained to the highest quality standard in the industry.
As we continue monitoring the spread of COVID-19, our teams are actively supporting healthcare providers nationwide to maximize the availability and readiness of necessary clinical equipment. We stand ready to offer support and services, including:
Supplemental rental of moveable medical equipment with on-demand delivery from one of more than 90 local market service depots nationwide

Supplemental biomedical staffing to support the repair, cleaning, testing and routine maintenance of hospital-owned equipment, ensuring equipment is patient-ready when needed

Onsite service staff to support the end-to-end management of equipment within facilities, including transportation, testing, cleaning and repair, delivered to the highest industry standard
The following Frequently Asked Questions further details our preparedness and response plans related to COVID-19. If you have questions or need additional assistance, please contact your local Agiliti Sales representative.
COVID-19 (Coronavirus Disease) Preparation
Frequently Asked Questions (FAQs) for Agiliti Customers
Q: Is Agiliti experiencing operational interruptions due to COVID-19?
No. There is currently no impact to our logistics or supply chain as a result of COVID-19.
Q: Does Agiliti have a disaster preparedness/pandemic readiness program?
Yes. Agiliti has a documented emergency preparedness policy that guides our response to natural disasters and other types of crisis situations.
We rely on close partnerships with our customers to shape our mobilization efforts during emergency scenarios. As we monitor the spread and impact of COVID-19, we are mobilizing our equipment and technical resources across our 90+ local market service centers to meet increasing patient and provider demand in local and regional markets across the country.
Q: How is Agiliti supporting increased demand for medical equipment due to COVID-19?
Agiliti maintains the largest rental fleet of medical equipment in the country, and our teams are working around-the-clock to maximize availability and readiness to meet expected demand. However, our fleet of available rental equipment is finite and continually shifting to support fluctuating needs within the markets we serve. Please contact your local Agiliti representative promptly to discuss medical equipment rental needs.
In addition to working with our customers to plan for increased equipment rental needs, our clinical engineering teams are available to provide healthcare providers with on-demand biomedical support to eliminate maintenance and repair backlogs and optimize utilization of their own equipment fleets.
Q: Will Agiliti have enough rental equipment available to meet the current and future needs of customers?
While we do our best to ensure equipment availability, our fleet of available equipment is continually evolving across the U.S. based on local and regional demand. Therefore, we are not able to guarantee future availability of equipment in a time of increased demand like we are experiencing with COVID-19. Please communicate your medical equipment rental needs promptly to your local Agiliti representatives. We are committed to timely and transparent communications, and we will work to try and find a solution to meet your needs.
Q: If you cannot provide the equipment I request, what other ways can you help?
During this time of increased uncertainty, the needs of clinicians and patients remain our highest priority. In the event we are unable to fulfill specific equipment needs, we are committed to helping in other ways, including:
We can offer alternative equipment types that meet the same clinical need. Even if we can't deliver the specific brand and model of equipment you have requested, we may be able to find an acceptable substitution in our rental fleet of 400,000+ devices.

We can support you with flexible and on-demand clinical engineering support to clear equipment repair backlogs and ensure the existing equipment you are using remains patient-ready. We have 500+ experienced biomedical and field engineers, standing ready to support you in all major markets across the U.S.

As a longer-term solution, we can place equipment management specialists onsite in your facilities and help you get more from your equipment. We perform this service for 400+ hospitals each day. The ability to professionally clean, maintain and deliver equipment will improve availability and give your caregivers more time to focus on patient care.
Q: How are you ensuring your equipment is clean, sanitized and patient-ready before delivering to our facility?
Agiliti is ISO 13485:2016 compliant across all of our nationwide local service centers and Centers of Excellence. Our policies and procedures for prioritizing patient safety and minimizing infection risks across our operations include:
All rental equipment is thoroughly cleaned and sanitized based on a rigorous, documented process that follows OEM-requirements

We rely on established and documented cleaning and disinfection procedures for every device in our fleet (by prefix), including:

Utilizing proper dilutions to effectively kill certain microorganisms

Adherence to the correct chemical contact times (measured) to ensure microorganism kill effectiveness

Distinct equipment workstations for separation of dirty and clean equipment

Dedicated

technicians trained on correct decontamination procedures for each device

Appropriate personal protective equipment

We audit our 90+ local market service centers annually to ensure compliance
Our compliance with the latest OEM guidelines ensures the right cleaning solutions are used for the right equipment for the right amount of time – ensuring risk is not passed along to patients in the delivery of MME.
Q: How are you ensuring your operations staff (delivery drivers, onsite technicians, biomed technicians, surgical technicians) are taking precautions against the spread of COVID-19?
Across our operations, we are focused on adhering to the rigorous, documented guidelines that we have in place to minimize infection risk each day, including:
Agiliti staff adhere to visual workplace standards and wear the appropriate personal protective equipment (PPE) when managing equipment

Agiliti service center staff are trained on OEM disinfection procedures for every device type in our fleet

Agiliti staff have been provided best practices and guidance on hand washing techniques, "social distancing" practices and workplace standards during a pandemic

Companywide, we have established strict processes to quarantine any staff members who are diagnosed with COVID-19, consistent with CDC guidelines. In addition, we have communicated that employees who are experiencing symptoms consistent with COVID-19, the seasonal flu, or a common cold should not report to work.

We are limiting non-essential travel across the company

We have put in place business continuity plans to minimize disruption to our core business functions during this time
In addition to these steps, we also employ quality and infection control experts who maintain an up-to-date knowledge of HAIs, SSIs and other bacteria-related topics affecting hospitals. These experts are actively monitoring the spread of COVID-19 and ensuring our front-line operators are taking all precautions necessary to minimize infection risk.
Q: What steps do you have in place to limit service disruptions for customers where an Agiliti employee works onsite at our facility?
If an Agiliti onsite staff member is unable to come to work for an extended time, we can utilize technicians from our local offices to minimize disruptions in service. Agiliti employs a geographically distributed workforce of 3,000+ employees across 90+ local service centers, so we are able to redirect staff members and other resources across our customer's facilities to meet demand where it's needed.
We also maintain a minimum 30-day inventory of parts and consumables, which allows us to operate around short-term supply chain disruptions.
If you have any additional questions about our preparedness and response plans related to COVID-19, please contact your local Agiliti Sales representative or email us at info@agilitihealth.com.