10 Questions You're Not Asking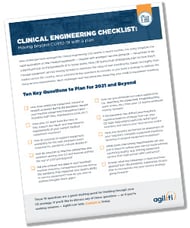 Most hospitals across the nation have increased their medical equipment inventories during the pandemic. Now, in-house biomed teams are tasked with maintaining and managing the higher volume of repair and maintenance requirements.
Download this Healthcare Technology Management Post-Pandemic Checklist to kickstart your planning with 10 simple questions that will help you evaluate your current medical equipment service strategy, focused on:
Improving service and technician productivity
Solving emerging logistical and process challenges
Setting a strategy to control increasing service costs
Complete the form and download the checklist.
Share this offer