Watch the Replay
Addressing the Biggest Questions from ANSI's 2018 Standards Updates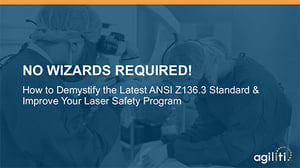 On June 26, 2019, Agiliti partnered with the Laser Institute of America (LIA) to lead a conversation on how OR professionals can ensure compliance to the updated 2018 ANSI Standard (ANSI Z136.3 – 2018) and improve their laser safety program.
In the webinar, Gus Anibarro of the Laser Institute and Richard Gama of Agiliti broke down three of the most misunderstood ANSI requirements and what steps you can take to enhance your laser safety program. Together, they covered:
The connection between ANSI and regulatory/accreditation agencies

Requirements for Laser Safety Officers

Importance of Laser Operator training and certification

Why Laser Operators must avoid competing responsibilities

Establishing a thorough intake/assessment process for third-party laser services

Steps to immediately enhance your Laser Safety Program
Complete the form on this page and receive immediate access to the recorded webinar. We'll also send you an email with a link to the video so you re-watch at any time.
Share